Welcome to DIGITAL RESOURCES FOR TEACHING AND LEARNING COURSE FOR TEACHERS
HOW TO ACCESS THE TRAINING PROGRAMME
Dear Applicant,
Thank you very much for your interest in the WorldReader and National Teaching Council  8 (CPD) points Digital Resources for Teaching and Learning training program.
Kindly visit https://bit.ly/3PD4qup to access the course.
Use the following credential to access the portal;
Username: your email address
Password: changeme
The system will automatically ask you to change your password after logging in. To do this, insert changeme as your current password and then provide a new password that you want to use in the other fields and click save changes. (Check image below)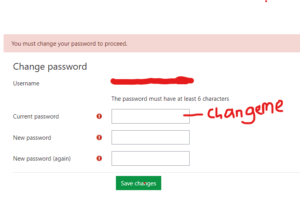 After a successful login, kindly update your profile.  Login with your old credentials if you already have an account on the portal if not, the above credentials will not work for you.
HOW TO ENROL YOURSELF IN THE COURSE:
After successful login go to your dashboard and scroll down to locate the course Digital Resources for Teaching and Learning. Click on the course name to begin your studies.
You have already been added to a group. The group's WhatsApp link will appear immediately you start the course for you to be able to join. 
WhatsApp 0268123333 for any technical assistance.
Invest in Teachers' Continuous Professional Development, Ghana Teacher Licensure Exams, STEM education for teachers and Ghana Teacher Prize